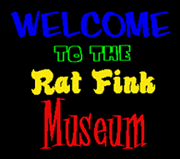 Hey gang here we are with some exciting Rat Fink Memorabilia. First we want to thank all of you for sending in your pictures. If you got something that you want to share just

e-mail it to us and we will post it for you. Note: Some of our Museum pages may load sort'a slow cuz of all the Giant Size images. Please be patient Cuz we want you to really check this stuff out and click on the links below Thanx !
Remember to Reload Your Pages for Up Dates....And use your back button to get back to this page....
Last Up Date for This Web Area 12/02/08
Go To Some Great Off Campus Roth Collections Click the Links Below !!!





Rat Fink™ name and device and Ed "Big Daddy" Roth and "Moldy Marvin"
are trademarks of Ed Roth © 1999 Rat Fink device © Ed Roth 1989
Copyright 1999/2000/2001/2002/2003/2004/2005/2006/2007/2008 @utomated Entertainment Burbank CA 91510