A Tour Of The Party Venue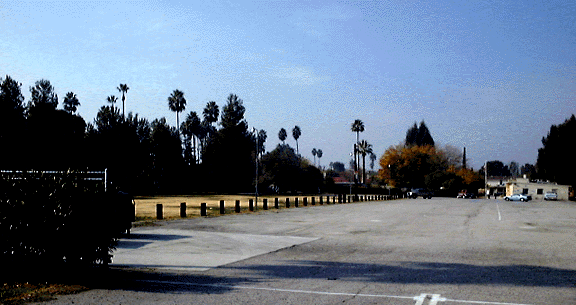 This is the Entrance of the property with both the Grass Field and the parking Lot we have plenty of room for the Car Show participants. There is also plenty or parking on the street for the general public.
Last Up-Date 12/03/00
Refresh These Pages Cuz They Are Still Under Construction
This is the picnic area where folks can hang out in the shade. We are going to have a Killer BBQ but folks can bring their own food and drink.

Please no Glass Bottles and No Pets

We may also have our Out door stage Set up in the vicinity of this area.

Click on tha image to get a closer L@@K
All of our Artist will have Their Booths Set up on either side of this windy walkway Show cars will also be allowed to park in this area

Click on tha image to get a closer L@@K
This is the out door Kitchen and BBQ area. There will also be Refreshments available and Barley Soda on Tap.

Click on tha image to get a closer L@@K at the Horse shoe pit. We're gonna have game of U shaped Handgrenades.
Yes there will even be a Swimming Hole this year so's folks can cool off and give them kids something' ta do. The Cement Pond will be supervised by Two Life Guards and strict Rules will apply to allow every one that wishes to cool off the opportunity to do so.

Click on tha image to get a closer L@@K

Logistics and Staff Meeting Room

Indoor Lounge, 21 and Over Only

Click on tha image to get a closer L@@K
Show Information Directory

Klassic & Kustom Car Show Rules and Entry Form

Need A Map ? Then B@@K Mark This Here Page and Click Tha Links Below

Interested in Becoming A Sponsor ? Still need more Information ?

Then Give Us A Call @ (818) 755-0820 or (800) 880-6567 or Send Us E-Mail

And Now A Word From Our Sponsors
Rat Fink™ name and device and Ed "Big Daddy" Roth and "Moldy Marvin" are trademarks of Ed Roth © 1999/2000 Rat Fink device © Ed Roth 1984
(Ed "Big Daddy" Roth, Rat Fink, Beatnik Bandit, Road Agent, Outlaw, Mysterion, Tweedy Pie, Stealth 2000, Surfite, Wild Child,
Angel Fink, Robin Hood Fink, Mothers Worry, & Dragnut are all trademarks of Ed Roth (C) '99/2000.)