Moldy Marvin's 2nd Annual Rat Fink.Party and Kustom Kulture Extravaganza, Klassic and Kustoms Show
A Tribute to the Life & Inspiration of Ed "Big Daddy" Roth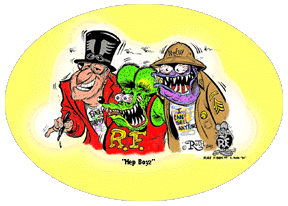 Saturday July 21, 2001
Reload these Pages cuz they will be changing a bunch in the next few weeks !!!!
This Page last Up-dated 08/10/01
Hey Gang we got a bunch of stuff ta show ya from tha party we had.
Man-0-man it woz a grrrreat show... But first We'd like to offer our condolences to the Barris Family who just recently lost Mrs. Barris to Cancer and Ilene Roth has a word'er two that she would like ta share with all of ya....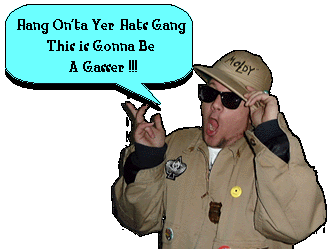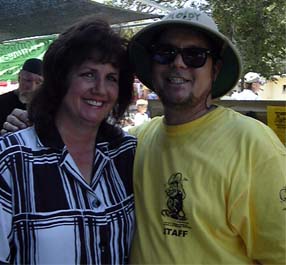 Moldy Marvin & Becca's 2nd annual Rat Fink Party Kustom Kulture Extravaganza held July 21, 2001 was a huge success. It was a very emotional time for me. I left Utah headed for California, my first trip without my sweetie. My wipers on my eyelashes worked pretty good for the most part. Was I nervous?? Yes!!! CA traffic is a lot different than what we have in Manti. Ed would always take the driving over at Victorville. With help of mapquest and "Bert da Shirt" we found our way to the party.

The eye thing started again when I saw all of those beautiful cars rumbling down the freeway. I knew that Big Daddy was VERY pleased. I could feel his spirit at the show. It always gives me a great feeling to see the awesome cars, trucks and bikes that have been given such loving care by their owners, cruise happier than any new car on the road.
It was fun to visit with friends and see all the talent of the artists in the tribute art pieces they had made in honor of Ed. What an outpouring of love. Ed did love the shows and loved his friends and fans. We always knew that our times at the shows would be fun. It was very special to have Nick help us again in the booth. He passed up a lot of exciting events to work with Rat Fink!! My family loved the show. Wyatt kept the camera busy and we have a lot of pictures of the cars and bikes.

I know that there are a lot of new people that came to the show to share their art and cars, that is so awesome to keep the car show life going strong.

I want to thank all of the people who donated art items to the Roth Estate Fund Raiser and want to thank the generous people who purchased the art. Also, I want to thank everyone that has been contributing to the Fund through the web site. This experience is very close to my heart. It is really humbling to have such loyal friends that are so willing to help.

I really appreciate the hundreds of hours that Moldy and Rebecca spent on making this event so spectacular. He mentioned that there were a lot of volunteers that helped and we all appreciate them, but the strength of the event was the planning for several months that made this such an awesome event.

Hope to see you soon.

Love, Ilene Roth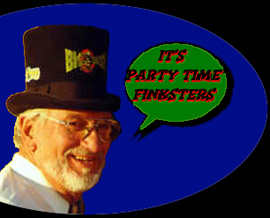 Here is a list of our Freinds that we'd like ta thank... For a compleat list go to The Sponsors & Folks That Make This Happen

link.......
O.K. here we go Not in a particular order...." Jimmy C and the Queen of Art, Robert And Suzanne Williams, Bio Bert da Shirt, Ken "Mitch" Mitchrony, Coop Cooper, Becca "Goddess "o" Glass ", Rainbone, Junk Yard Kid, Larry "Speedo" Henely, Randy & Jeanne Zaideman, Sonny DePalma, Manuel Cisneros, E -dog, Willy Fisher Of "Daddy-O-Design", George and Brett Barris, David Looper, Chad The Ghoul Scheres, HOT DOG, Craig Fraser, Dirty Donny, Dave "DB" Burke, Marco Almera, Sunny Buick, Dan Collins, Eric Pigors, CJ Allan, Hot Dog, Harpoon, Baba, Skratch, Queen Pin, Shift "E", Beau Boeckmann, Sean Riley, and tha guys from M@@neyes, Car Kulture Deluxe, Barracuda, Drive, Gearhead, Grindstone, and Motorhead " And How'bout them bands !!!!! Southbound 151,The Lava Men, The Dead Billys, Luck Of The Draw, The Black Shadows with Headliners Mr. Badwrench & Cattie Ness and The Revenge....
The Proceeds from our Auction and Raffle were donated to:
Show Information Directory

Join Our Kustom Kulture Club On Yahoo For Up-Dates and Comments On Our Event!
Go To The Official Rat Fink Webring
"New" !!! Real Time Chat Room Click This Link
We Are Also Taking Orders On Our Official Show Shirt
S-XL $ 15.00 XXL $ 17.00 + $ 3.20 Fer Tha Shipping
Just Give Us A Call Or E-mail Us
Rat Fink™ name and device and Ed "Big Daddy" Roth and "Moldy Marvin" are trademarks of Ed Roth © 1999/2000/2001 Rat Fink device © Ed Roth 1984/89
(Ed "Big Daddy" Roth, Rat Fink, Beatnik Bandit, Road Agent, Outlaw, Mysterion, Tweedy Pie, Stealth 2000, Surfite, Wild Child,
Angel Fink, Robin Hood Fink, Mothers Worry, & Dragnut are all trademarks of Ed Roth (C) '99/2000.)