Sponsorship Advertisement Information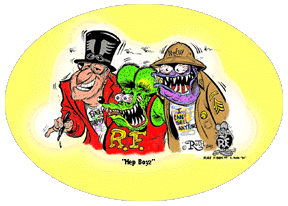 Moldy Marvins 2nd Annual Rat Fink.Party
and Kustom Kulture Extravaganza 2001
Your Donation is Tax Deductible and helps pay for the Following Items:
Facility
Show Poster
Show Advertisement
Printing
Trophies
Liability Insurance
Additional Toilet Facilities
Sound System
The Cash Award to the winner of the Battle of the Bands

We will also try to donate small amounts of money to the Club's that participate as Logistics Crews for Help on the day of the show this will include Show Registration, Parking, Security and General Clean Up and of coarse a bunch of little junk that we haven't even thought of yet....

So how do the Charities benefit from this show ?
Your Donations allows us to put on this show at no cost to our participating Artist and the general public. The artist donate their art and the public buys the art that they donate during our Charity Auction. We also accept other product and service donations from local business owners that we Raffle off during the show. All of the proceeds from our Charity Auction and Raffle go directly to our Charities absolutely none of this money goes back to the Promoter of this show. If we as the promoter lose money we lose money and we write the deal off. Your donation just makes things a little easier for us so please Kick in on this show.
This Years Charities
The Deal
* The Show program will be Booklet size, 5.5" wide by 8.5" tall.
* Business Card ads will be placed on a first come first served basis.
* All participants are welcome to submit their completed banner layout on a PC disk or e-mail
* Images for the Show program will be in Grey Scale/Black & white only, Line Art may be submitted but we rather have art work sent on a PC disk in illustrator accessible formatted you can also e-mail your art work to us.
* Full Color Images available for the Super Sponsor Poster Ads.
All Sponsors Get Listed On Our Sponsorship Web Page Which will stay up indifinately Because we Report on the Show after and feature it on our Website for years to come. You will also be listed on the Sponsorship page in the Show Program. Wot A Deal !!!!!!!!!!!!
Sponsorship Advertisement Rates Are As Follows.
Super Sponsor Poster Ad -$1,000

This is wot ya get a

3.5" x 2" Ad on the Promo Poster

A Web banner and link on website Note: If you don't have a Web Site We will create A Web Page for you on ours and Link your banner ad to it.

and a full page Show Program ad
| | | |
| --- | --- | --- |
| Last Years Poster ... | This years poster will be a lot bigger if we can get some of you nice folks ta Sponsor it !!! It will feature this years show Image of the Hep Boyz !. | |
Last Years Show Program

Inside Adverts:

Top L=1/2 page, Bottom L=Business Card, Right Full page
1/4 Page/Biz Card
3.5" w x 2" h
$30.00
Half Page
5.5" w x 4.625" h
$60.00
Full Page (incl. web link)
4.875" w x 7.75" h
$120.00
Inside Front Cover (incl. web link)
Sorry TAKEN*
*TAKEN
Inside Back Cover
(incl. web link)
$200.00
Back Cover
(incl. web link)
$300.00
Website Banner
(incl. web link)
$50.00
This is what a web banner looks like
Website Listing Only
(incl. web link)
$25.00
Trophy Sponsor

Also Get Listed On the Class Entry Page

Specify Sponsored class by going to the Entry page from here and choosing the class you wish to sponsor.
$30.00 each
One of Last Years Awards
Sorry we wont show This years Awards on the web until after tha show. If you as a sponsor need to see a sample just ask us and we will e-mail you a picture of our Mock-Up... were tryin' ta keep them under wraps until the day of the show.
Deadline For As Submission & Full Payment
Super Sponsor Poster May 30, 2001
Show Program, Trophy & Website Ad's June 1, 2001
All Sales Are Final Sorry No Refunds
You Can Either Call Us @ (800) 880-6567 or Go To The Printable
Payments are to be made to:
6850 Vineland Ave. Unit M North Hollywood, CA 91605
We Accept The Following Credit Cards Please Call for More Information and To Make Card Payment
(800) 880-6567 or (818) 755-0822


Thank You !!!!!!!!!!!!!!!
Copyright 2000/2001 @utomated Entertainment Burbank, CA
Rat Fink™ name and device and Ed "Big Daddy" Roth and "Moldy Marvin" are
trademarks of Ed Roth © 1999/2000/2001 Rat Fink device © Ed Roth 1984

(Ed "Big Daddy" Roth, Rat Fink, Beatnik Bandit, Road Agent, Outlaw, Mysterion, Tweedy Pie, Stealth
2000, Surfite, Wild Child, Angel Fink, Robin Hood Fink, Mothers Worry, & Dragnut are all trademarks of Ed Roth (C) '99/2000.)