The Ed "Big Daddy" Roth Winter Nationals &
Rat Fink Reunion 2001
December 15th 2001 Wendover Raceway NV/UT
Ed really loved the salt lakes and the Bonneville Salt Flats.

He wanted ta have tha next Rat Fink Reunion in Wendover near Bonneville. So that is exactly what we did.
We took tha Rat Fink Reunion back to it's roots this year. Had sum pinheads show up and sum good food ta eat. Salt Lake's Own Ridge Runners Provided us with sum good'ol Rock-A-Hillbilly music fer that evenings entertainment.
Well I guess we should start out at the beginin' ...

Go To The Next Page to See Wot We Did

We Want to Thank Our Sponsors and the Folks that Have Helped Us....
Need More info ? call 800-880-6567
Pictures of other Rat Fink Events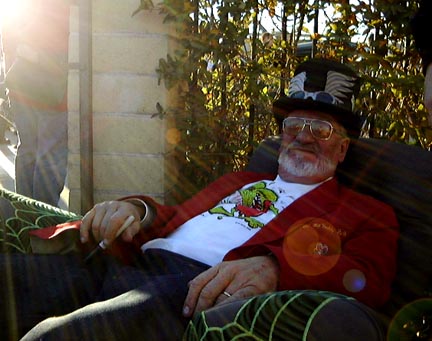 (Ed "Big Daddy" Roth, Rat Fink, Beatnik Bandit, Road Agent, Outlaw, Mysterion, Tweedy Pie, Stealth 2000, Surfite, Wild Child,
Angel Fink, Robin Hood Fink, Mothers Worry, & Dragnut are all trademarks of Ed Roth (C) '99)
This Page Last Up Date 01/04/02
Rat Fink™ name and device and Ed "Big Daddy" Roth and "Moldy Marvin"
are trademarks of Ed Roth © 1999/2000/2001/2002 Rat Fink device © Ed Roth 1984/89
Copyright 1999/2000/2001/2002 @utomated Entertainment Burbank CA 91510