Rat Fink Reunion "2000"
These Pages may Load a little slow So Please be Patient .......
| | |
| --- | --- |
| | Howdy, my name is Shige, Ed and I would like to thank all of you that came to The Rat Fink Reunion Saturday December 16,2000 especially all of our artist friends. I also want to thank , Chico, Patrick, Gary and the rest of my "devoted employees" at Mooneyes, and then I want to thank all of the talented music people too,, We couldn't of done it without them here's a list. |
The Rat Fink Reunion 2000 Line up Thanks you Guys:

Ed "Big Daddy" Roth & "Trixie", Larry Watson, Gene Winfield, Dennis McPhail and the Artists at Large Group, Von Franco, Willy and Molly Fisher with Daddy'O' Designs, Jimmy C and Tha "Queen", "Itchy", "Keith", Dave "DB" Burke, Dan Collins, Bio Bert Da' Shirt, "Moldy Marvin" Coop # 1, Ken "Mitch" Mitchroney, "RainBone", "Enamel", Larry "Speedo" Henely, "Sonny De Palma", "Gaberal" , "Marco" , Jessey James, "Coop", Jessey James of WCC, Jeffrey "BB" Mcgraw and Harpoon, Hot Dog.

Live Music by: "Hot Rod Trio", "Torquays", "Black Shadows", "Dynotones", "Tha Paladins"
&
"Blazing Haley"
For those of you that took pictures of the event you can e-mail them to Moldy and he will post them for you and give you a name credit if he uses them.
| | |
| --- | --- |
| "One more thing,,, Before I turn this over to Moldy I wanted to share some photos of the show that we put on over in Yokohama Japan. This was our 9th year it was held December 3rd 2000 and it is very similar to the Rat Fink Reunion only Japanese style". | |
| | |
| --- | --- |
| | "We hold it inside a big indoor arena." |
| | |
| --- | --- |
| "This year we featured the Southern California Shifters and Anthony's Bubble top that he just completed." | |
| | |
| --- | --- |
| | "Ed giving the winning bidder his congratulations at our charity auction." |
| | |
| --- | --- |
| | "Larry "Speedo" Henely And Jun Naga." "Jun sent in most of these pictures, thanks Jun. Old Speedo gets around don't he." |
"If you want to see more pictures of our Yokohama Rat Fink Party and Hot Rod Show Then Book mark these pages and click the link to Mooneyes Japan Oh Yeah and please everyone have Happy and Safe Holidays this year because we want you all to come back Next Year...........Take it away Moldy"
These Pages are Gonna Load a little slow So Please be Patient .......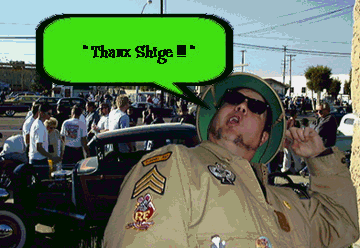 Last Up-date 12/23/00
Rat Fink™ name and device and Ed "Big Daddy" Roth and "Moldy Marvin"
are trademarks of Ed Roth © 1999/2000 Rat Fink device © Ed Roth 1989
Copyright 1999/2000 @utomated Entertainment Burbank CA 91510