Tha Good o'l Dayz Back In 1957
| | |
| --- | --- |
| | Gang ya got'ta check this out... These here pictures have never been published before and were sent in by Ken Allen and Jim Howard. We want to Thank Ken and Jim for their pictures and stories. |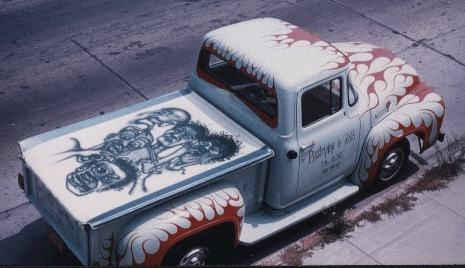 Ed's Truck
Ken Allen: We were all members of the Bell Gardens "Buccaneers" car club. Most of us had gone to school in Bell Gardens then went in the service (Korea police action) and were home working, in our early twenties. Our lives were cars, parties, girls and cars. We usually hung around Ed's Maywood shop in the evenings and helped him with sanding or whatever we could do, talked a lot and sometimes we would have a beer or two.
Ed always was looking for new ideas and would try them on us by painting tee shirts, sweat shirts, cars and anything that would stand still to be painted.
The only condition he ever made to any of us, was he never described ahead
of time what he was going to paint. We had to have faith that we would like
it when it was done. We always had the faith and liked the results.

Ken's Truck

Ed painted a man holding up a hot dog to the exhaust pipe on one side panel

I had a 55 Blue Ford pickup that Ed did one of His first "Scallop" paint jobs on.

Ed would do the painting free for us if we supplied the cars, tee shirts and any thing else he could paint on.

He was always trying out new ideas on us to see how they would come out.

History on my truck:

I had the hood leaded and the hood paint was a little lighter than the fenders. Ed said let me paint it and no one will ever see the difference. I had a job out of town so left the keys with Jim Howard. After Ed taped it, Jim and the other guys did the sanding, The guy next door at the body shop sprayed it for $25. When I got home the truck was done and looked great!
| | |
| --- | --- |
| Ed did not charge for the taping. The deal was that I used his name whenever someone asked about the paint job. Ed also made me a sign that I displayed at car shows. WHAT A DEAL! | Ken's Truck |
Ed painted a man holding up a hot dog to the exhaust pipe on one side panel , on the other side he painted a head with a detail eyeball, inside the eye was a martini glass on its side with a bottle next to it. Never got a picture of them, and did not take any close-ups, feel like an idiot now.

These were done later as something Ed wanted to do when he was looking for
something to paint. Thanx Ed, Ken Allen




(Ed "Big Daddy" Roth, Rat Fink, Beatnik Bandit, Road Agent, Outlaw, Mysterion, Tweedy Pie, Stealth 2000, Surfite, Wild Child,
Angel Fink, Robin Hood Fink, Mothers Worry, & Dragnut are all trademarks of Ed Roth (C) '99)
This Page Last Up Date 07/20/00
Rat Fink™ name and device and Ed "Big Daddy" Roth and "Moldy Marvin"
are trademarks of Ed Roth © 1999/2000 Rat Fink device © Ed Roth 1984
Hot Rods by Ed 'Big Daddy' Roth:
Ed Roth, Tony Thacker (Contributor) / Paperback / Published 1995
Ya can find this one in our on-line B@@K Store for only $ 19.00 + S+H

Check out our B@@k Store We GoT some really Great titles and we're working on gettin' more K@@L Kustom Kulture propaganda for you folks.....

Kustom Kulture : Von Dutch, Ed 'Big Daddy' Roth, Robert Williams and Others Ron Turner(Compiler) / Paperback / Published 1993
B@@K Store Price $ 29.00 + S+H. Check it out !!!!
Copyright 1999/2000 @utomated Entertainment Burbank CA 91510