"Rat Fink Super Gas 67 Camaro"
England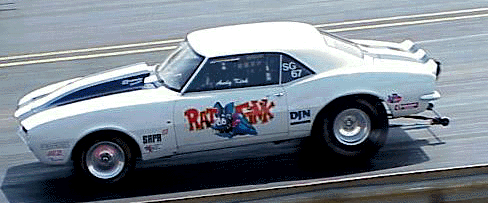 Thanks to Tog and Sharkman at www.eurodragster.com for the photos.
Lee Kirk here, I am the crew chief on the Rat Fink Super Gas '67 Camaro (You may remember us from last year
when you and Mr. Roth granted us permission to use the Rat Finktm name) I just thought that I would mail ya to tell you that we one our first race meeting!
Super Series 2 (you may have read about the super series in Custom Car magazine). We ran times of 9.901, 9.891, 9.927 and finally a 9.917. We reckon what did it is the fact that it was 90 degrees over here and a lot of the other cars haven't got the power to run in the heat, which is where our 800bhp 516ci Chevy with 3 seconds of throttle stop comes in to play.
I just thought I'd let you know as we couldn't have done it without Rat Fink riding along on the doors.
Cheers Lads!!
Lee
This page last up-dated 07/19/00
Rat Fink™ name and device and Ed "Big Daddy" Roth
are trademarks of Ed Roth © 1999/2000 Rat Fink device © Ed Roth 1989
Copyright 1999/2000 @utomated Entertainment Burbank CA 91510