Sonny "Tha Doc" DePalma Story
Page 3
If ya got them 3-D glasses put'em on! !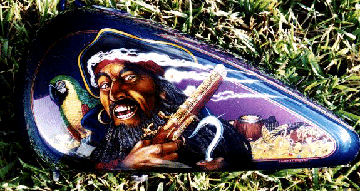 Well, twenty years later and too many Harleys to count, I'm still at it.
I have developed my own style which is a combination of airbrush and
paintbrush resulting in murals and graphics that are crisp and clear
with a 3-D look. Along with the best primers, paints and clear make
for some killer paint jobs.
My work has been featured in the pages of "Easyriders", "Big Twin",
"In The Wind", etc. This year, I also received the prestigious "Painter
of the Year" award from "VQ/Easyriders" magazine.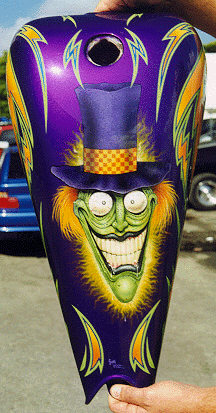 Along with the Harleys, I also offer original art (for those bare walls).

And COMING SOON; posters, t-shirts and mouse pads.
I love what I do and I owe a lot of it to
Ed "BIG Daddy" Roth. ...
So, click on the Thumbnails and enjoy the ride
Take care Sonny
All images of Sonny DePalma's artwork are copyrighted by Sonny DePalma 1998/2000
Notice: If you see any copyrighted material on any of these pages, please email me with the information and I will promptly remove it.
| | |
| --- | --- |
| Click Image For A Closer L@@K | Helmet 1 |
| Helmet 2 R | Click Image For A Closer L@@K |
| Click Image For A Closer L@@K | Helmet 2 L |
| Helmet 3 | Click Image For A Closer L@@K |
| Click Image For A Closer L@@K | |
| | Click Image For A Closer L@@K |
Copyright 1999/2000 @utomated Entertainment Burbank CA 91510