Rat Fink: The Art Of Ed 'Big Daddy' Roth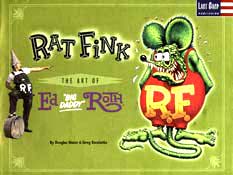 - by Douglas Nason & Greg Escalante
Ed Roth's colorful persona, outrageous designs, and irreverence was both heralded by the underground and shunned by polite society. Dubbed the "Blue Collar Warhol," he left behind a legacy of creative lunacy and turned American car designers, the art world, and the youth of America upside down. He defined what it was to be a true original; and in defining an American aesthetic, fathered a movement known as Lowbrow Art. This long awaited volume is the first American book dedicated solely to the work of Ed Roth.

This is a 220 page, picture-packed survey of Roth's varied artistic endeavors is now available for purchase directly from Automated Entertainment & Rat Fink.org
On Sale Now !!!! Order yours today !!!!!
Soft Cover $ 29.95 +S+H
Hard Cover $ 49.95 +S+H
For Ordering Information Contact Us

We Also Accept PayPal Sign Up Today


Last Up Date 02/11/03
Rat Fink™ name and device and Ed "Big Daddy" Roth and "Moldy Marvin"
are trademarks of Ed Roth © 1999 Rat Fink device © Ed Roth 84/1989
Copyright 1999/2000/2001/2002/2003 @utomated Entertainment Little Rock CA 93543