New Sorry Sold Out At this Time !!!!!
Rat Fink 2000
Rat Fink 2000 Model Building Contest !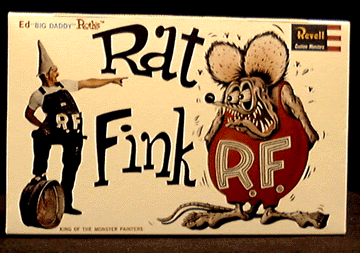 So we got o'l Rat Fink with Original 60's Art Work On the Box.
Hey Kids Finky goes Great with yer other Monster Models and fer all of ya older folks out there ya can display him on yer Dashboard or in yer Rear Window Package Tray.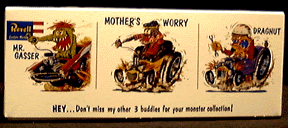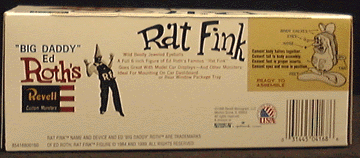 This is Very Kool Finksters. Rat Fink is a pretty easy one ta build too Kiddies and He's Only a Woppin' $ 9.50 + S+H.
And Check This Out we're Gon'na have A Rat Fink 2000 Model Buildin' Contest Ta keep ya busy durin' Those rainy Winter days or over the summer when ya got nothin' else better to do.
I Got'ta Have it. Only $ 9.50 + S+H
OR Call
(800) 880-6567 or (818) 755-0822

I wanna Go Back ta the Models Page
(Ed "Big Daddy" Roth, Rat Fink, Beatnik Bandit, Road Agent, Outlaw, Mysterion, Tweedy Pie, Stealth 2000, Surfite, Wild Child,
Angel Fink, Robin Hood Fink, Mothers Worry, & Dragnut are all trademarks of Ed Roth (C) '99)
This Page Last Up Date 01/26/00
Copyright 1999/2000 @utomated Entertainment Burbank CA 91510