"Rat Fink Guitars by Lace"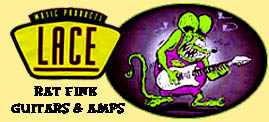 Carrying the artwork and influences of Ed "Big Daddy" Roth. Paintwork saluting the back yard hot rodder. Highlights include Roth style Neon acrylic pickguard and head stock plate, in brilliant lime green. The world famous Rat Fink image adorns the body, as does the Rat Fink Logo. RF3 features all the above features plus an additional Rat Fink emblem. It sports a vintage Pearl White Fink paint job reminiscent of those early hot rod days in Southern California
Get The Rat Pack !

Features: Neck, Deluxe sealed tuners, Custom Rat Fink Headplate, 25-1/2" scale neck, w/21 medium jumbo frets, on a rosewood fingerboard with dot inlay.

Controls: Master Volume, Master Tone with 3-way toggle switch.

Bridge: Special design wrap around bridge / tailpiece.

Pickups: All NEW "Powered by LACE" humbuckers are standard equipment surrounded by red pickup rings.

The Rat Pack Includes:

Way Cool! Rat Fink Guitar, 10watt Rat Fink Amp, tuner, Gig Bag and Strap. Very Cool Box, Guitars are s/n, very limited quantities.
IN STOCK

Chose From:

Black

Gray

Or White

Get the Rat Pack today only $ 489.00 +S+H
Guitars may be purchased separately along with the "New" Rat Fink Bass and Amplifier line.

For more information go to our contact page for our e-mail and fone numbers!

Click on the images for a closer look!

Rat Fink Bass

15 Watt Amp.

20 Watt Amp.

40 Watt Amp.
Last Up-Date10/23/03

Affiliate Websites
Rat Fink™ name and device and Ed "Big Daddy" Roth and "Moldy Marvin"
are trademarks of Ed Roth © 1999/2000/2001/2002 Rat Fink device © Ed Roth 1984/89
Copyright 1999/2000/2001/2002/2003 @utomated Entertainment Little Rock CA