We're in the process of building a new fuel altered for match race completion. Our fuel car is for all purposes the same as a fuel funny car running today with only an older model body on it. We are planning on using a stretched 48' fiat one piece body on the car.
This is not something that is new to me as I have built, owned and driven funny cars for twenty years. Having driven everything from injected funny cars to fuel funny cars running on the NHRA circuit is a passion of mine. I have also spent years working on race teams as a clutch and engine specialist and I am very well versed in the operations of these cars.

It became very clear a few years ago that it was going to be financially impossible to keep trying to run the funny car in that level of completion as for the most part I ran the car out of my own pocket. I took a step back and decided to build an altered and match race the car. In a match race situation we get paid to come to a track and make passes, the promoter or track owner uses us and our car to pack the stands with their fan base. It is then up to us to put on a show for these fans, have a lot of fun doing it and hopefully get enough money to make the car pay for itself. Plus or minus I do this with my loyal crew for the love of drag racing in general and the passion of running a fuel car foremost.

Between myself and my crew we have well over 100 years experience running these cars. No one on the crew has less than 15 years experience in this, and these people are loyal friends because no one gets paid to do this.
We are planning to run the car 10 to 15 times in 2001 and are already talking to track owners and promoters about booking dates. We figure to stay on the west coast running from Seattle Washington to Tuscon Arizona and as far east as Salt Lake City Utah.

We want to keep this deal light and airy with having fun doing it the major concern. If we tried to do more or go further it would put a strain on families, jobs and businesses.
I think having " Mothers Worry " on the car would be really kool, and with the outlaw image of a fuel altered coupled with the outlaw image of Mr. Roth's monster it would be a natural to mix them together.
It is not my intention to do this for financial gain, but it would be a tribute to Mr. Roth for all he has given over the years. He sure has had an impact on me over the last 30 years and so I am forever grateful.
Her Body and Paint Click on the Images to get a closer L@@K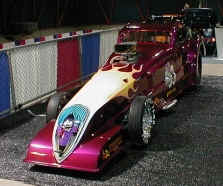 SHE TOOK SECOND IN THE COMPETITION CLASS IN THE AUTORAMA. NOT BAD, THE CAR THAT BEAT HER HAS BEEN A WORK IN PROGRESS FOR ALMOST 20 YEARS.
Check back often and watch our progress......... If ya got any questions ya can e-mail us
Or Bookmark this page and Check out Our website for our Events Schedule for 2002
@
Last Up Date 02/12/02