Here's Some Air Brush T-Shirt's. I usually charge anywhere from $ 35.00 - $ 50.00 each depending on the image and the type of T-Shirt.
If yer interested in having one done let me know. I'll be posting some more designs soon.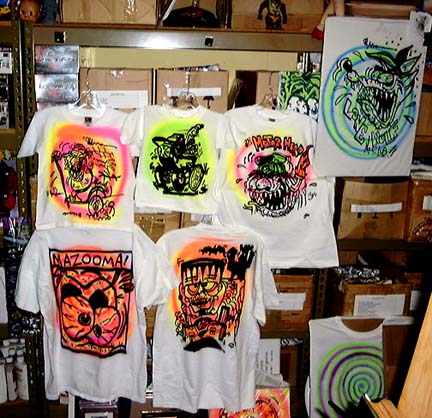 Click on the images for a closer look, Use yer back button to get back to this page.
There are some examples of the same image with different backgrounds.
I also take Old Skool Roth Black & White Line Art T's and air brush the color in like Roth did back in the day when he would get so busy that, that was the quickest way to get them done! I have several designs to chose from, please call (800) 880-6567 to find out what we have available.
"Moldy Marvin" is a trademark of Automated Entertainment / 2003/2004/2005/2006/2007
Rat Finkô name and device and Ed "Big Daddy" Roth
are trademarks of Ed Roth © 1999/2000/2001/2002/2003 Rat Fink device © Ed Roth 1984/89



Copyright 1999/2000/2001/2002/2003/2004/2005/2006/2007

Little Rock CA 93543