We Got Them Hillbilly Crash Helmets
Please Be Patient Animation Loading ......
| | |
| --- | --- |
| | Yep that's right gang we got hillbilly crash helmets fer sale. Back in 1990 ol' "Big Daddy" thought that he'd bring back these here hats only with a twist, he woz gonna put patches on them...well he started ta put these things together until he figured out that they took up too much space in his trailer and there wasn't enough space ta fit his show car so he stuffed them in box's and forgot'bout'em until folks started askin'bout'em again. Well gang wez got 'o' whole bunch of these here things.. |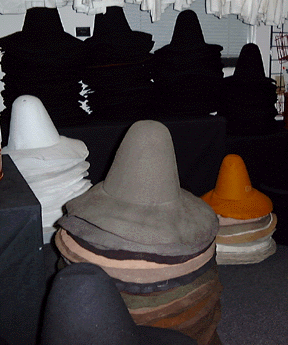 These are the real deal and official in fact we'll even give ya a certificate of authenticity with yer purchase. And A good part of yer investment goes back to the Roth Estate for the upkeep and the preservation of Rat Fink.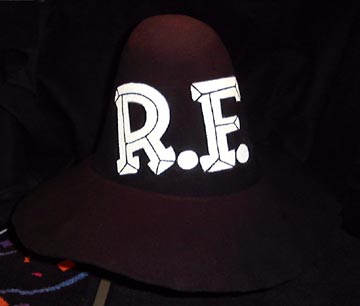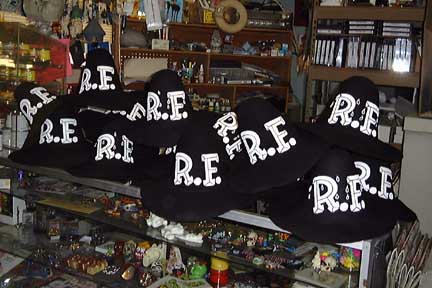 Note: Brim, Size, Styles, Colors, Thickness & Holes Vary.
Styles with patches are sold out.
E-mail Greg "Coop" Cooper by clicking on this link and he will help you out!
This Page Last Up-dated 02/03/04
Rat Fink™ name and device and Ed "Big Daddy" Roth and "Moldy Marvin"
are trademarks of Ed Roth © 1999 Rat Fink device © Ed Roth 1984
"Chevy Rules", "Wild Child", "Ed "Big Daddy" Roth", "Ford Truck", "Rat Power", "Mothers Worry", "Junk Yard Kid", & Fuel Injected" © 1990/2001
Copyright 1999/2000/2001/2002 /2003 /2004 @utomated Entertainment Little Rock, CA 93543