Eyeball John's Store
Shifter Knobs
| | | | |
| --- | --- | --- | --- |
| Screamin Skull (piston head) $28.00 | Screamin Skull shifter (black eye's) $28.00 | Screamin Skull (poppin' eye's) $28.00 | Screamin Skull shifter (ruby eye's) $28.00 |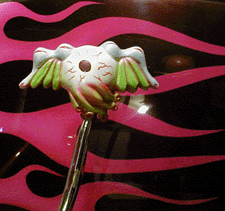 Flying eyeball shifter knob
$50.00
Flying Eyeball sculpture

Call

Flaming Eyeball sculpture

Call
Note: 3D Flame sculptures
(4 designs in all, chopped 34 Ford, chopped Merc, Screamin Skull &
American Dream bike) are Kustom airbrushed and priced according to
amount of detail in painting, also clock mechanisms can be added at
an extra charge. Shipping To Be Added price is subject to change.
Call For More Details and Ordering Information Or Send us an e-mail
Dealer Inquires Welcome
(800) 880-6567 or (818) 755-0822





(Ed "Big Daddy" Roth, Rat Fink, Beatnik Bandit, Road Agent, Outlaw, Mysterion, Tweedy Pie, Stealth 2000, Surfite, Wild Child,
Angel Fink, Robin Hood Fink, Mothers Worry, & Dragnut are all trademarks of Ed Roth (C) '99)
This Page Last Up Date 07/21/00
Rat Fink™ name and device and Ed "Big Daddy" Roth and "Moldy Marvin"
are trademarks of Ed Roth © 1999/2000 Rat Fink device © Ed Roth 1984
Copyright 1999/2000 @utomated Entertainment Burbank CA 91510