Nitro History
By Ed "Big Daddy" Roth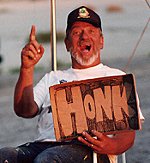 For about 40 years, I've been tryin' to trace the first guys that tipped the nitro can into the fuel tank and said, "Let's go for it!" It's like tryin' to find a needle in a haystack. Every once in a while, I think about it and ask around, but last week I got an e-mail from this old member of the Bell TIming Association who told me the whole story.
Now, I knew of these guys from the old Santa Ana days, and the inventor of the group was this casual gent named Jim Lemmon. He had a reputation around Bell for having an inventive mind but nobody paid any attention to him on account o' he had a muffler shop business in Bell Gardens. He was also sort of a weird chap (to say the least) because when he spoke, these strange sounds and formulas came out of his mouth and nobody could follow his conversation except Brother Sinner and a few race die-hards (DIck Weston, etc.) from the BTA. I knew they were going to the Santa Ana drag strip (1950 or so) and blowin' off all the competition, but I didn't have a clue what they were doing. So when Dale Sinner told me the story about how they took grease zerks, drilled the balls out of 'em to make 'em into injectors and put 'em on top of the blower, it all made sense. But, alas, Dale's wife put her foot down about Sunday racing and Crisman and other die-hards took over, but Dale...Jim...our greasy wrenches are firing a 15-gun salute to you and your wacky ideas.
Speaking of the Bell Timing Association, I was at the Bonneville Salt Flats over the weekend (of the latest Bonneville Speed Trials--Ed.) and spotted a few old-timers up there fightin' for their place in the sun. One of these was Carl Morrow from Daytona Beach, who is the Harleymaster of fast bikes. He's the originator of the Typhoon carburetor for street machines, and a guy that wrenches with his son Doug Morrow doing the riding honors (along with Warner Riley). These bad boys, along with master tuner Serge Torres, Ted Reigel, Larry Russell and Tim Janzek managed to set three new bike records. When this happened, the bikes were impounded and checked for stock gasoline and displacement to make sure no cheatin's going on. Get this: A 113-cubic-inch Unlimited Sportster going 178.248 MPH, "TOP GUN:" a 99-cubic-incher going 158 MPH, and a 95-CI Sportster going 157 MPH. All of these are from Carl's Speed Shop of Daytona. He's on the Internet! Go get him! He's truly a bike rat fink!
Ed "Big Daddy" Roth and Rat Fink are trademarks of Ed Roth (C) 2000.
---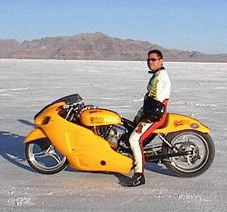 Son of a bike rat fink! Here's Doug Morrow, with one of the bikes he rode to a Bonneville class record that his dad, Carl Morrow, wrenched on. (Courtesy SCTA)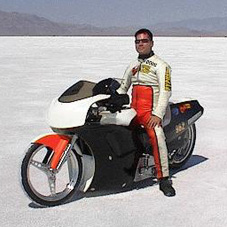 Another of the three bikes Doug Morrow rode to class records on the salt. (Courtesy SCTA)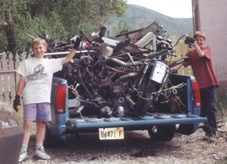 Before heading out to Bonneville, I got rid of this trailer load full o' scrap metal--all of it from my '63 Nova project.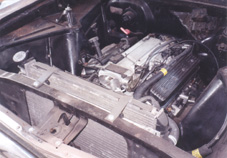 '96 Camaro engines DO fit into '63 Novas.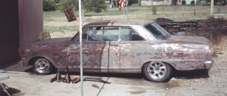 Whoops! A little low in front. I'm getting some new (and stiffer) front springs.
---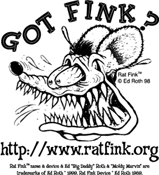 (Ed "Big Daddy" Roth, Rat Fink, Beatnik Bandit, Road Agent, Mysterion, Stealth 2000, Surfite, Wild Child, Mothers Worry, & Dragnut are all trademarks of Ed Roth (C) 2000.)
Bookmark our Website and Check Out Drive Magazine on line for
"Big Daddy's" current article

Copyright 1999/2000 @utomated Entertainment Burbank CA 91510