Generations On The Salt
By Ed "Big Daddy" Roth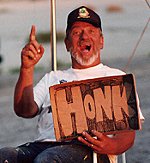 It's always a pleasure to introduce the younger generation to drag racing. They're the future of the Hot Rod sport, and even if they never actually twist a wrench, they can enjoy the spirit of the racers as they walk through the pits.
This time, it was my kid Wyatt's chance to meet some of the racers and their rigs at the Bonneville Salt Flats. I tried to explain to him that only one car at a time goes through the measured course and that the idea was to "beat the clock." He understood it by the time we arrived at the salt. He has a "need for speed," and he may decide to try his luck sometime at a Bonneville car.
The first interesting car we came across was the PPG-sponsored "One Trick Pony" car that was neatly nestled under a blue plastic tarp. Then, we walked over to the red tent, where a lot of activity was going on. There, we found out that if a record is set by a vehicle, it had to go under the red tent, where it would be double-checked for safety and engine displacement. That's because records are set at Bonneville in classes where cubic inches, and the fuel used, tell the final story.
Under the red inspection tent, I met Carl Morrow of Carl's Speed Shop in Daytona Beach, FL. His shop is dedicated to making Harleys go faster. Back in the day, Carl was from the same neighborhood as me when I lived in Maywood. He used to take bikes apart, and reassembled them to go faster. I don't ever remember him getting beat!
Carl had just set three world records with three separate Gas Sportsters, and all three were under the red tent getting a lot of attention from the SCTA tech committee 'cause they all went over 155 MPH...Street bikes! Those judges were going over those Sportsters with a fine-tooth comb. Carl had his son Doug with him. Doug was one of the riders who drove these machines over the 150 MPH mark.
The last time I'd seen Doug, he was a real quiet kid who looked like he would grow up to be a bank worker. Then, when I'd see Carl at the drags, he'd have Doug along, showing him how to clean parts, etc. The next thing I knew, he was letting Doug race at the drag strip, and POW! Doug was bringing home the trophies and prize money.
So that's the real life story of Doug Morrow. Another kid who took to racing through Carl's efforts.
I want to thank all you racers who welcomed us, and who let Wyatt sit in the seat of their cars.
Ed "Big Daddy" Roth and Rat Fink are trademarks of Ed Roth (C) 2000.
---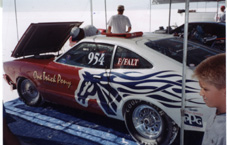 One of the cars we saw at Bonneville was this "One Trick Pony" Mustang II. Dig the trick PPG colors on it! That's my boy Wyatt, standing next to the back of the car.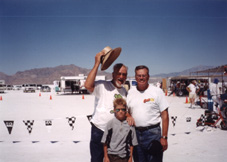 That's me and Wyatt with Carl Morrow. Way back when, Carl lived near me in Maywood, and took Harleys apart to make 'em run faster. Now, he runs a speed shop in Daytona, and his son Doug sets records while ridin' his daddy's bikes!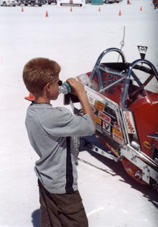 When ya take a kid to the races, chances are you're planting a seed that'll sprout up into a full-on racer one day!
---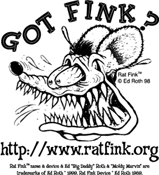 (Ed "Big Daddy" Roth, Rat Fink, Beatnik Bandit, Road Agent, Mysterion, Stealth 2000, Surfite, Wild Child, Mothers Worry, & Dragnut are all trademarks of Ed Roth (C) 2000.)
Bookmark our Website and Check Out Drive Magazine on line for
"Big Daddy's" current article

Copyright 1999/2000/2001 @utomated Entertainment Burbank CA 91510