Geoff "BB McGraw" Davidson
P 1
BB McGraw Center With Son at right Rat Fink Reunion 2000

Direct from Braveheart territory BB Mcgraw
specializes in large Scenic backdrops for Rock and Roll shows, Ballets, Stage shows you name it... he also does smaller Images like the ones you see here.. these were used as background images that surrounded Ed for his new Documentary Film to début sometime in late 2002 or early 2003. And yes Gang they are for Sale !!!!!!!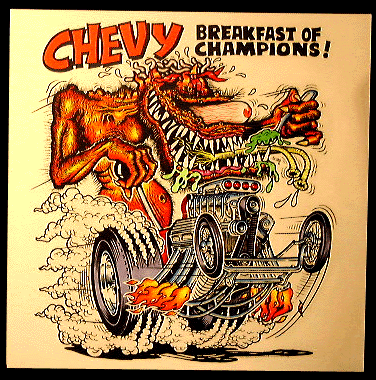 Each Painting is 48" x 48" Fluorescent Acrylic colors on 1/8" finished Plywood
Click on the images for a closer L@@k
| | | | |
| --- | --- | --- | --- |
| | | | |
Chevy Breakfast of Champions, Big Bad Chevy, Chevy Man, Dodge Power, Ford Breakfast Of Champions,Mighty Mustang, Mustanger, Vicous Vette, Wildchild, Copyright Ed "Big Daddy" Roth 1998
Last Up-date 03/17/01
If you are interested in purchasing any of pieces above Please call Automated Entertainment at (800) 880-6567 or (818) 755-0822 For Details.
Dealer Inquires Welcome
(Ed "Big Daddy" Roth, Rat Fink, Beatnik Bandit, Road Agent, Mysterion, Stealth 2000, Surfite, Wild Child, Mothers Worry, & Dragnut are all trademarks of Ed Roth (C) '99.)
Rat Fink™ name and device and Ed "Big Daddy" Roth and "Moldy Marvin"
are trademarks of Ed Roth © 1999 Rat Fink device © Ed Roth 1984
Copyright 1999/2000/2001 @utomated Entertainment Burbank CA 91510